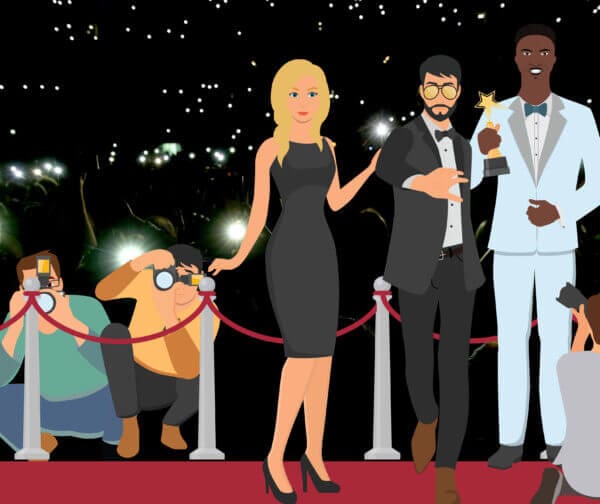 Famous Deaf People: 17 Deaf and Hard-of-Hearing Actors
Hollywood has a complicated history with sound and deafness. The silent era of film was accessible to deaf, hard-of-hearing and hearing audiences alike, but once sound became an integral part of the global film industry, equal access for deaf and hard-of-hearing audiences was sidelined.
Nowadays, we are seeing more access again in movie theatres – with captioned sessions for some screenings – and also more storylines featuring deaf and hard-of-hearing characters. But what about the actors who play those characters, and hearing characters too?
Though they might have received limited attention from the mainstream press,  there are many actors on screen today who are deaf or hard-of-hearing and who have gained respect and awards for their powerful performances.
We highlight 17 of them here as part of our Famous Deaf People series. You can also read about famous deaf people who changed the world, and famous deaf and hard-of-hearing musicians on our blog.
Nyle DiMarco
Nyle DiMarco shot to fame when he won America's Next Top Model in 2015.
"Not many people realize, actually, my entire family is deaf," DiMarco said in an interview with Yahoo Life. "I myself am the fourth generation in my family — meaning my two brothers, my parents, my grandparents and even my great-grandparents were all deaf."
As such, DiMarco's first language is American Sign Language (ASL), though he's also fluent in English and reads lips.
In 2013, DiMarco had a leading role in the independent film In the Can, an American Sign Language Films movie. Then, in 2015, America's Next Top Model reached out.
"I thought that they probably weren't ready to have a deaf person on the show," DiMarco said. "I sent in my audition video anyway. All of it was in sign language with captions, fully accessible, and turns out, they liked it." DiMarco was also the winner of Dancing with the Stars in 2016.
DiMarco has used his platform to raise awareness about deaf culture and accessibility. Watch his satirical video about reality show Love Is Blind below.
Marlee Matlin
Marlee Matlin is, to date, the only deaf performer to have won an Academy Award. Her career has spanned nearly five decades, including acclaim for her lead role in Children of a Lesser God in 1986, which earned her an Academy Award and a Golden Globe.
Diagnosed with profound hearing loss at just 18 months old, Matlin has only 20 per cent hearing in one ear, and is completely deaf in the another.
As a child, Matlin attended a synagogue for the Deaf. She studied Hebrew phonetically, and learned her part of the Torah for her Bat Mitzvah. She performed in children's theater as early as seven years old with the Center on Deafness in Chicago.
Matlin is now a leading advocate for disability awareness.
Linda Bove
Linda Bove is a deaf American actress who earned her fame as Linda the Librarian in the beloved children's series, Sesame Street.
In her role, Linda introduced millions of children to sign language, and helped raise awareness about Deaf culture. Playing the role for over 30 years, Bove earned the title of longest-running role on American television for a person with disability.
Bove's deaf parents weren't surprised when she was born deaf. At age three, they enrolled her in St. Joseph School for the Deaf in New York. She went on to study library science and became interested in theater.
While at the National Theatre for the Deaf, Bove met her another deaf actor, Ed Waterstreet, who she married. They have both been heavily involved in theater arts for the deaf. Linda started the Little Theatre of the Deaf with colleagues.
Millie Bobby Brown
Star of Netflix's hit series Stranger Things, Millie Bobby Brown is deaf in one ear. Born with hearing loss in one of her ears, the condition has become more profound over time, leaving her deaf in her right ear. Brown continues to wow audiences in her role as the lethal and mysterious Eleven in Stranger Things.
In May 2020, Brown was featured on the Time 100 list of the world's most influential people, and to date is the youngest person to appear on the list. In November 2018, she was the youngest person to be appointed a UNICEF Goodwill Ambassador.
Jane Lynch
American actress, voice actress, singer, author, and comedian well known for her role as Sue Sylvester in the TV series Glee, Jane Lynch is completely deaf in her right ear.
She says her deafness was a result of a suffering a high fever which left her with nerve deafness when she was just a baby. However, Lynch did not discover this until she was seven years old when she was playing with her brother and a transistor radio.
CJ Jones
Amazingly, actor, comedian, writer, and director CJ Jones was one of seven hearing children who were born to deaf parents. His parents communicated in ASL. Jones lost his hearing at the age of seven when he fell ill with spinal meningitis.
Jones is best-known for his breakout role in the 2017 hit film Baby Driver. He stars alongside Ansel Elgort, playing his deaf foster father.
Outside of acting, Jones founded the International Sign Language Theater Festival, and has produced several one-man shows which have toured internationally, as well as Once Upon a Sign, which portrays classic fairy tales for children's television.
Russell Harvard
Born deaf, Russell Harvard is an American actor who made his major film debut alongside Daniel Day-Lewis in the critically-acclaimed There Will Be Blood.
Harvard comes from a third-generation deaf family. Both of his parents and his paternal grandmother are deaf.
Harvard can hear some sound with the use of a hearing aid, but identifies himself deaf and considers American Sign Language to be his first language.
In Harvard's many notable performances, he won the Theatre World Award for Outstanding Debut Performance for his performance as Billy, the deaf son in an intellectual, though dysfunctional, hearing British family in the 2012 Off Broadway play Tribes by Nina Raine.
Sean Berdy
Born deaf, Sean Berdy is an actor, comedian, writer and producer known for his leading role as Emmett in the TV show Switched at Birth. He earned early success in his breakout role in The Sandlot 2, playing Sammy 'Fingers' Samuelson.
Berdy is bi-lingual, fluent in both American Sign Language (ASL) and English.
In the Netflix show The Society, Berdy's character communicates with the other characters in ASL. Berdy said that the other actors know how to sign before the show started and his co-stars learned ASL from a coach who taught them after-hours and on weekends.
"I'm so proud of the cast. It's not easy and they're doing a great job on the show."
Since a young age, Berdy has been an active member in the deaf community, winning the title of Mr. Deaf Teen America in 2010. This title allowed him to travel around the country spreading awareness for deaf people and deaf culture.
Outside of acting and activism for the deaf community, Berdy has a keen interest in magic. At a younger age, he competed at the World Magicians Festival in St Petersburg, taking out the top award for young magicians.
Millicent Simmonds
Award-winning American Actress Millicent Simmonds became deaf after a medication overdose at just 12 months old.
Her mother learned American Sign Language and taught her whole family. Simmonds attended the Jean Massieu School of the Deaf and participated in its drama club. Her passion took off and at just 14, she earned a breakout role in Wonderstruck in 2017.
Simmonds followed up with her role in horror film A Quiet Place alongside Emily Blunt and John Krasinski. As the film's premise relies on sign language, the cast learned sign language to communicate with one another.
Daniel Durant
Actor Daniel Durant is a success story out of Waterstreet's Deaf West Theater. The prestigious LA theater saw Durant's YouTube videos and cast him in several shows, which paved the way for him to be cast in the TV series Switched at Birth.
Born to deaf parents, Durant was also born deaf. Early in his life, he went to live with an aunt who learned American Sign Language in order to communicate with Durant.
Durant initially attended a local mainstream school, but blossomed when he transferred to the Minnesota State Academy for the Deaf and discovered theater.
Durant has received critical acclaim for his performance in the stage production Spring Awakening. He remains an active member within the deaf community, using social media to connect with people from around the world and spread awareness about deaf issues and culture.
Halle Berry
Academy Award winner Halle Berry is hard-of-hearing, having lost 80 per cent of her hearing in her right ear. This was a result of domestic violence from an abusive former partner. Berry has since become a champion of domestic violence reduction, being outspoken about her own experiences.
Berry has achieved much success in her career, starring in a multitude of blockbusters. And as of 2020, Berry remains the only African-American woman to win an Academy Award for Best Actress in a Leading Role for her lead role in Monsters Ball.
Rob Lowe
Famed actor Rob Lowe has been completely deaf in his right ear since he was a baby due to an undiagnosed virus.
The Hollywood star has spent several decades in the limelight, coming to prominence in the 80s with roles in The Outsiders, The West Wing, and, more recently, in Parks and Recreation.
Stephen Colbert
Host of the critically-acclaimed Late Show, Stephen Colbert is completely deaf in his right ear. An operation to correct a perforated eardrum changed the shape of Colbert's ear and left him with inner ear damage.
William Shatner
Canadian actor William Shatner, known as many by Captain Kirk, began suffering tinnitus due to a pyrotechnics mishap while shooting an episode of the famed Star Trek series.
Tinnitus is characterized by a ringing or buzzing noise in one or both ears that may be constant or come and go, often associated with hearing loss.
Following this, incident Shatner began to wear a small device which generated white noise to distract his brain from the constant ringing caused by tinnitus.
Shatner is a spokesperson for the American Tinnitus Association and advocates for sufferers and finding a solution. He is pictured in the middle of the below photo.
Whoopi Goldberg
Beloved actress, comedian, and Academy Award winner Whoop Goldberg wears hearing aids due to hearing loss she believes resulted from attending loud concerts and events in her youth.
She often warns people to turn down speakers, so they don't suffer the same fate.
In 2015, Goldberg adopted a dog who is deaf and blind.
Kiefer Sutherland
Also losing his hearing on set, British actor Kiefer Sutherland – best known for his role in the series 24 – reported that he is "pretty much deaf in one ear, and half deaf in the other" after playing so many roles involving gun-shots and explosions.
He explained, "I can't wear ear plugs because often you have dialogue after, so you need to hear the other actor."
Today, he wears hearing aids in his day-to-day life. He is also a musician who plays country music.
Lou Ferrigno
Lou Ferrigno is an American actor and former professional bodybuilder. He is best-known for playing The Hulk in the late 70s and early 80s.
Ferrigno lost 80 per cent of his hearing shortly after his birth due to ear infections that were not treated properly. He wore hearing aids since the age of five, and taught himself to read lips.
Growing up with hearing loss, Ferrigno cites his experiences with bullying as a source of strength which motivated him to train hard. He won Mr Universe twice, in 1972 and 1973, and is the youngest person to ever win this award.
Ferrigno is an active supporter of the deaf community with a number of charities and often speaking on deafness, the deaf community, deaf education and overcoming adversity.
The future of acting
While Hollywood is learning, these stars represent only the tip of the iceberg. There are so many opportunities for authentic deaf and hard-of-hearing representation in television and film. The industry just needs to take action on realizing them.
These actors have lead the way in many respects, and many of them are also great advocates for others in the deaf and hard-of-hearing community.
The television and film industries are also learning more about captioning content, but they're absolutely not perfect. Pushing for this accessibility is why organisations like Ai-Media exist!
If you want to know more about Ai-Media's accessibility services for deaf and hard-of-hearing people – including captioning – you can get in touch on our website and discover our full range of services.