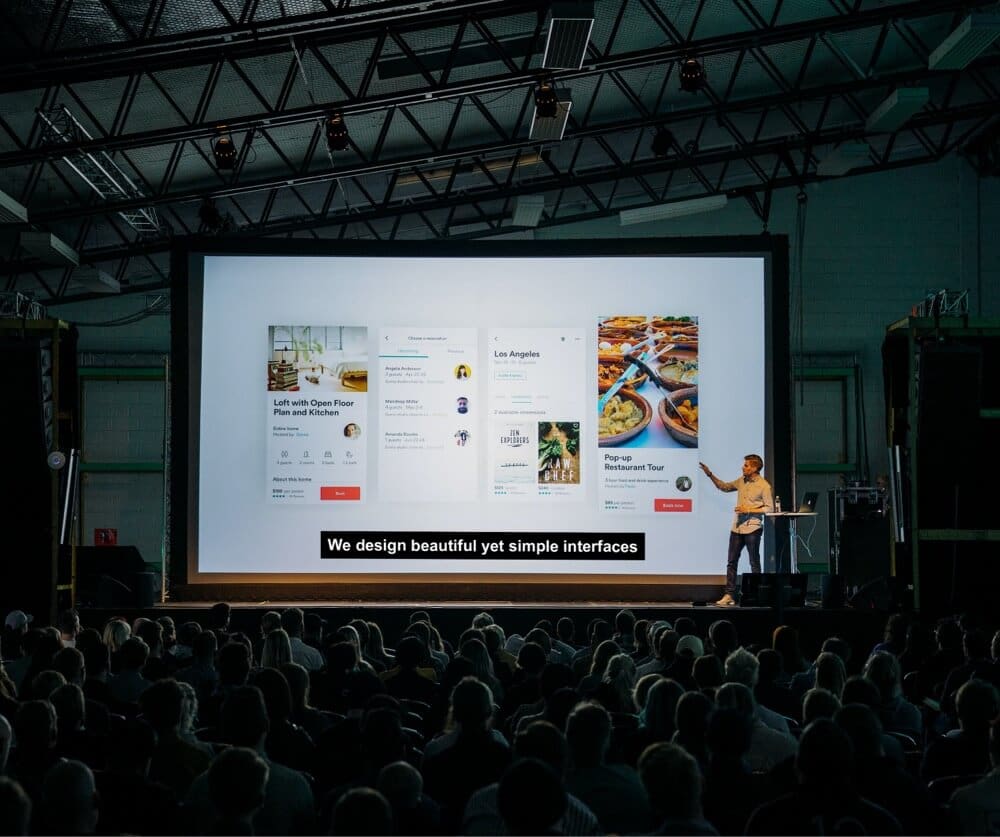 AI-Powered Captions for Corporate Events & Meetings
Make your events and meetings inclusive and multilingual with AI-Media's end-to-end range of captioning technology.
Trusted by the world's best





Ensure inclusive, multilingual events & meetings with accurate live captions
The world's leading enterprises choose AI-Media to caption their in-person or virtual meetings and events. Break down language barriers and provide an inclusive experience for all with accurate, affordable live captions powered by AI and the cloud. With AI-Media, you can access all the captioning technology you need in one place, helping you make accessibility easy.
Popular corporate events & meetings product bundles
LEXI + Falcon
Seamlessly live caption your events and meetings with the unmatched combination of Ai-Media's LEXI AI-powered automatic captions and Falcon cloud encoder. This powerful yet cost-effective solution offers a one-stop, self-service cloud platform to easily caption your RTMP/S streams.

No hardware is necessary, as everything you need is available in the cloud. And it's easy to start using LEXI and Falcon, with both solutions available via a flexible and affordable online subscription.

LEXI Local + Encoder Pro
For ultimate caption security, you can combine Encoder Pro with LEXI Local, which delivers live automatic captions on-premises and off the cloud. This provides elevated security and greater control over your data, without compromising the quality of your captions. Pair LEXI Local with our Encoder Pro SDI encoder for a reliable, low-latency captioning solution that's trusted by government agencies worldwide.

LEXI + LEXI Viewer
Easily push captions to event displays with the powerful combination of LEXI and LEXI Viewer. Powered by AI, LEXI's unmatched accuracy and cutting-edge features deliver results that rival human captions, at a fraction of the cost. It seamlessly integrates with LEXI Viewer, the ultimate HD-SDI captioning device for your event presentations.

This combination ensures captions are clear and easy to read, while keeping video content fully visible. With 4 display options to choose from you can select the best mode for your requirements. Plus, access our AI-powered LEXI automatic captions with a single click.
End-to-End Captioning Solutions
Combine Encoders + Display + Caption Services
Why Choose AI-Media?
Trusted by the World's Best
The world's leading broadcasters and organizations choose AI-Media's captioning technology for its unmatched accuracy and affordability.
Powered by AI
Our LEXI automatic captions leverage the latest AI to deliver results that rival human captions, at a fraction of the cost.
Captioning Made Easy in the Cloud
Combine LEXI with our Falcon encoder for a self-service cloud platform that's easy to set-up, manage and scale.  
Easily Add Captions to Event Displays
Pair LEXI with iCap Viewer to output live captions to event screens while keeping presentation content fully visible.
Expand Your Audience
Translate into a variety of languages with AI-Media's automatic and human multilingual captions.
Deep Captioning Industry Expertise
Our expert team can advise on the most appropriate solution to meet your requirements.
Case Studies
LEXI & Falcon help global brands simplify captioning
LEXI & Falcon help global brands simplify captioning
The Challenge
Facing growing viewer demand for captions, both Eventage and act.tv needed an affordable and highly accurate solution to simplifying the process of captioning their live streams.
The Solution
AI-Media's AI-powered LEXI automatic captions and Falcon IP encoder provided both organizations with all the captioning technology they needed in one easy-to-use cloud platform. It allowed them to caption their live streams with over 98% accuracy via an agile solution that's quick to set up, manage and customize. Both organizations also saved significant time with streamlined cloud captioning workflows.
Products Used
Amagi enables global reach with high accuracy captions
The Challenge
Amagi needed a better way to provide quality captioning for its blue-chip media and entertainment clients, which was essential to expanding their reach to global audiences. The company had previously used out-of-the-box captioning solutions, which were both expensive and inaccurate.
The Solution
The powerful combination of AI-Media's AI-powered LEXI automatic captions and Alta IP encoder enabled Amagi to deliver highly accurate captions for its clients' broadcasts. The integration proved efficient and scalable, allowing Amagi to meet the needs of traditional broadcasters and OTT channels. AI-Media's end-to-end solution also helped save time and reduce costs with streamlined workflows.
Products Used
Testimonials
What our clients are saying
High Accuracy & Cost-Efficiency
LEXI has provided us with accuracy above expectations, ​while significantly reducing our costs.
Simplified Cloud Platform
With Falcon and LEXI providing a fully cloud captioning platform, Eventage didn't need to purchase and set up any hardware. All its production workflows were simplified – even for demanding events.
Versatile & Easy-to-Use
"iCap Alta allowed us to satisfy the traditional broadcasters who prefer premium human captioning, as well as the newer OTT channels who want a captioning solution that is quick, easy and high quality like LEXI."
Versatile & Easy-to-Use
We most often work with AI-Media for our events at the United Nations. The AI-Media team is available, responsive and punctual. AI-Media's expert services provide an additional level of inclusion and access during our events, guaranteeing our entire audience's equal participation.
Ready to Talk? 
Get in touch with our friendly team to learn how you can drive sustainable growth by partnering with AI-Media.