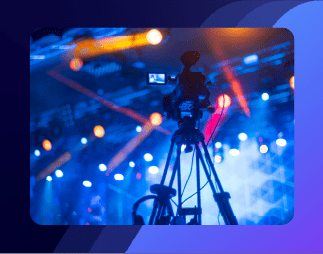 Revolutionizing Events with Cutting-Edge Captioning Tech
AI-Media at the Global Media Congress 2023, Abu Dhabi, UAE
The stage is set for the Global Media Congress in Abu Dhabi, UAE, from November 14-16, 2023. Building upon its remarkable success in 2022, this year's congress promises to be an even more profound experience for global media professionals. At the heart of this groundbreaking event, AI-Media takes the spotlight as the live caption and translation provider, revolutionizing the way we experience live events. 
In a today's world, events like the Global Media Congress provide a unique platform for media businesses to connect with thought leaders, discover the latest trends, and collaborate on innovative ideas. It's essential that the content and discussions at such events reach a diverse, international audience. AI-Media's groundbreaking technology is making this possible like never before. 
AI-Media: A Game-Changer in Live Captioning and Translation 
AI-Media is set to impress attendees with its AI-powered LEXI automatic captioning solution, human captioning, coupled with LEXI translate. Here's what you can expect to experience over the three days of the Global Media Congress: 
Remote Translation to 5 UN Languages

: With AI-Media's cutting-edge technology, you can seamlessly translate content from English to five United Nations languages: Arabic, French, Russian, Chinese, and Spanish. This feature ensures that language is no longer a barrier to knowledge-sharing, fostering a truly global and inclusive environment.

 
Audio Translation on the Same Stream:

In addition to text translation, AI-Media will also provide real-time audio translation. This means that attendees can listen to content in their preferred language without missing a beat, creating a more engaging and immersive experience.

 
Accessibility for All:

What's most impressive is that in-venue attendees can access the live translated content from their own smartphones or web devices. The link to access these services is readily available through the event app. It's a simple yet brilliant way to make events more accessible, interactive, and engaging for everyone in attendance.

 
Expanding Global Reach and Enhancing Attendee Satisfaction 
Captioning and translation technology like AI-Media's LEXI solutions isn't just about convenience; it's about expanding the horizons of events and broadcasting. By offering multilingual content and real-time translation, event organizers can dramatically increase their global reach. This, in turn, can lead to higher levels of attendee satisfaction and create more engaging and unforgettable experiences for everyone involved. 
Imagine attending an event like the Global Media Congress and effortlessly receiving content in your preferred language. This experience not only makes attendees feel valued and included but also fosters a sense of unity among a diverse international audience. It's a powerful testament to the potential of technology to break down language barriers and bring people together. 
AI-Media's LEXI captioning and translation solutions are leading the way in making events like the Global Media Congress more accessible, inclusive, and globally connected. By bridging language gaps, AI-Media is not just a service provider but a facilitator of cultural exchange and shared knowledge. So, the next time you plan an event or broadcast, consider how AI-Media's groundbreaking technology can help you deliver an exceptional, multilingual experience for your audience. 
AI-Media can transform your next event or broadcast and help you deliver inclusive, multilingual content during your next event or broadcast. The future of accessible, multilingual content is just a click away!