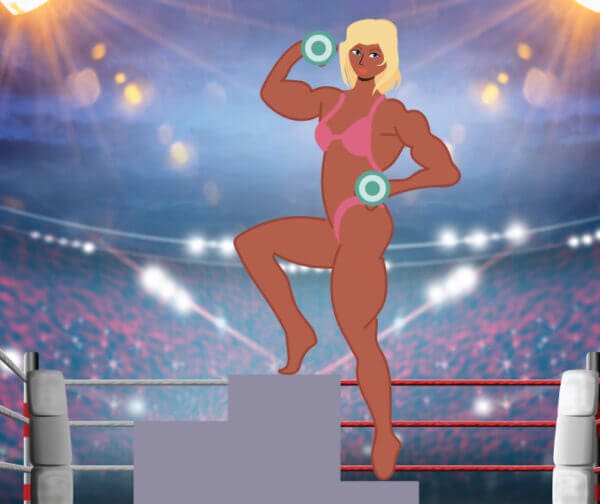 Famous Deaf People: 15 Athletes Who Are Deaf or Hard-of-Hearing
Sport is one thing that often unites us as humans. It has always had a way of exciting us, inspiring us and making us cheer.
Deaf and hard-of-hearing athletes have been an influential part of sporting history. They have broken records, brought accessibility practices to many sports, and acted as role models for young deaf and hard-of-hearing people.
Read about 15 of the greatest deaf and hard-of-hearing athletes below. You can also read the other articles in our Famous Deaf People series – Actors, Musicians and People Who Changed the World.
Tamika Catchings
"[Hearing loss] has shaped me as a person; I feel like it has been my sixth sense."
Basketball superstar Tamika Catchings is one of the greatest WNBA players of all time.
She is a ten-time WNBA All-Star, a five-time All-WNBA selection, and is famous for recording the first ever quintuple-double (25 points, 18 rebounds, 11 assists, 10 steals and 10 blocks in 1997). She has also won a league record of five Defensive Player of the Year awards and is a three-time Olympic gold medalist.
Catchings was hard-of-hearing from birth, as was her brother. After playing basketball throughout her school life, Catchings became a star of the University of Tennessee women's basketball team. She said that, on the court, her hearing loss didn't feel like an issue because most of the communication happened through body language.
Catchings is a prolific scorer close to and far from the basket, as well as a capable rebounder, ball handler, and defender. In 2011, she was voted in by fans as one of the Top 15 players in WNBA history.
Catchings retired in 2016 and served as a game analyst for Women's Basketball Games on the SEC Network. She was inducted into the 2020 Class of the Naismith Basketball Hall of Fame.
Shelley Beattie
"The only thing I can't do is hear."
Professional bodybuilder Shelley Beattie began competing as an amateur bodybuilder when she was a college student. After a difficult childhood in and out of foster care, bodybuilding was a demanding project that Beattie could focus on.
Throughout the late 1980s, Beattie competed regularly and won regularly. At 22, she earned her pro card in bodybuilding when she won the title at the 1990 NPC USA Championship.
As a professional bodybuilder, Beattie has been recognized for her graceful and artistic presentation. She competed at a height of 5 feet 7 inches (170 cm) and a body weight of around 144 pounds (65 kg).
Beattie lost her hearing at age three after accidentally swallowing a bottle of aspirin. She learned sign language and had several operations, as well as speech therapy.
After the 1993 Ms. Olympia contest, Beattie retired from bodybuilding. She then served as a grinder on the the first all-women's America's Cup team and went on to become a TV celebrity on American Gladiator, where she was known as 'Siren'.
Beattie had a tumultuous life full of mental and physical challenges. She dealt with bipolar disorder and drug addiction. Through it all, Beattie was known as a radiant and kind person.
Laurentia Tan
"I like the feeling of riding, the sense of freedom. I can't run but when I ride a horse, I feel like I am running. I can't dance, but on a horse, I can look like I am dancing."
Laurentia Tan is a Singaporean-British para-equestrian competitor, and the only international-level deaf para-dressage rider in the world. Tan started horse riding when she was five as a form of physiotherapy to strengthen her muscles, but two decades later, she was on her way to competing in the Paralympic Games.
Tan graduated school and started a career as a mental health worker, and after advising several patients to take up riding for rehabilitation, she decided to get back into riding herself.
The World Para Dressage Championships were Tan's first international competition. She performed so well that she qualified for the 2008 Paralympic Games, and won two bronze medals at the 2008 Beijing Paralympics. She followed this up in 2012 with a silver and bronze medal at the 2012 London Games, and silver in the individual championship at the 2018 World Equestrian Games.
Tan developed cerebral palsy and profound deafness after birth. Doctors advised her family that she may never walk and might need institutional care, but Laurentia exceeded expectations. When Tan competes in dressage – which is set to music for rider and horse – Tan controls her horse by feeling its rhythms.
Tan is a Solidarity Ambassador for the International Federation for Equestrian Sports, and was awarded a Bintang Bakti Masyarakat (Public Service Star) by the Singaporean President in November 2012.
Cliff Bastin
Clifford Sydney Bastin was a remarkable English footballer from the 1920s to 1940s. He is the Arsenal football team's third-highest goal scorer of all time, and also played throughout his career for Exeter City and the England national football team.
Bastin played football at a fascinating time in history. He played as a schoolboy in the mid-1920s and showed great promise to his teachers. While playing for Exeter City, Bastin was picked up by Arsenal manager Herbert Chapman, who, after seeing him play a game by chance, signed him at the end of that season.
Bastin was nicknamed 'Boy Bastin' during his time with Arsenal, from 1929 to 1947. During this time, Bastin scored 150 League goals and 26 FA Cup goals, and was part of an Arsenal FA Cup winning side in 1930 and 1936. His debut for the England national team was in 1931 and he was capped 21 times.
In May 1938, Bastin was part of the infamous friendly game against Germany, in which the players (including England) gave the Nazi salute before the game began. In the coming years, the war interrupted Bastin's career, but he was not drafted to fight due to his increasing hearing loss. He did play matches in the wartime football league to 'increase morale'.
Few details are known about Bastin's deafness, but it became more profound throughout his life.
Bastin also appeared in two films, just before and during the war: The Arsenal Stadium Mystery in 1939 and One of Our Aircraft is Missing in 1942. He also ran a café and pub with his wife after retiring from football in 1947.
Derrick Coleman
"Everybody, at the end of the day, we all have something in common. We all just want to have fun. We all just want to be treated equally. People say, 'Oh, you're a football player.' No, I'm myself, who happens to play football and who happens to be hard of hearing. I know my entire life I just wanted to be treated like everybody else."
Former NFL star Derrick Coleman started his sports career playing fullback at the University of California, Los Angeles (UCLA). He has said that he spent a lot of time 'not being picked' because he was deaf.
In 2012, Coleman's talent began to be recognized, and he was signed with the Seattle Seahawks. The Seahawks won the Super Bowl 48 in 2014, and Coleman has said that celebrating this victory is one of his best memories. Coleman then signed with the Atlanta Falcons in 2017, and the Arizona Cardinals in 2018.
Coleman lost his hearing at the age of three, from what was thought to be a genetic disorder. He wears two hearing aids, and started his professional football career using a panty hose his mother cut up to place over his ears to keep his hearing aids in while playing.
"Growing up with hearing loss had its challenges," Coleman said in an interview. "But me having a competitive nature helped turn them into advantages! I can read lips really well since I was mainstreamed in school with no sign language education or community… Sometimes in loud away games, a teammate or two will ask me what was said in the huddle, ME, a hard of hearing/deaf player! Make the best with what you got!"
Coleman used his lip-reading skills to adapt during loud games, getting his team mates to mouth instructions to him when he couldn't hear them being yelled out.
"People say, 'So how do you hear the snap count?' I move when the ball moves," Coleman has said. "If the ball doesn't move, I don't move."
Matt Hamill
"[Wrestling] taught me the meaning of life. I also learned that, whether I win or lose, it's important to have fun."
Matt Hamill, also known as 'The Hammer', is a mixed martial artist and wrestler. He fights as a light heavyweight in the Ultimate Fighting Championship (UFC).
Hamill got into wrestling through the encouragement of his stepfather – who was a wrestling coach – to 'keep him out of trouble'. Hamill says that from the age of 27, wrestling became his passion and helped him come to terms with his deafness.
"I didn't see any deaf people involved in wrestling. It was difficult to read lips and follow what was happening. Communication was an issue for me. I had to watch demonstrations to learn wrestling," Hamill has said in an interview with DEAF Inc.
Hamill is a three-time NCAA Division III National Champion in wrestling. He also has a silver medal in Greco-Roman Wrestling and a gold medal in Freestyle Wrestling from the 2001 Summer Deaflympics.
Hamill was born deaf and uses American Sign Language. He is the subject of a 2010 movie entitled The Hammer about his early life and wrestling career, in which he is played by deaf actor Russell Harvard.
Heidi Zimmer
"I have a vision that people who are deaf, hard-of-hearing, and DeafBlind will learn they can do anything that they dream, as my parents taught me."
Heidi Zimmer is an accomplished athlete in several fields. She competed in the women's high jump at the Deaf Olympics in 1969 and 1973, and won the bronze medal in high jump at the Yugoslavia Olympics of 1969. Zimmer is DeafBlind.
Zimmer is also an accomplished mountaineer who has several notable firsts in the sport — the first deaf person and the first person with Usher Syndrome to reach the top of three of the Seven Summits — the highest mountains in each of the seven continents.
When Zimmer reached the top of Mount McKinley in June 1991, she unfolded a banner that read, "DEAF WOMAN, A PARADE THROUGH THE DECADES."
Zimmer's parents suspected that she was deaf when she was very young, and this was confirmed by doctors soon after. Later in life, Zimmer was diagnosed with Usher's syndrome, which is a common cause of DeafBlindness for many people.
Zimmer has worked hard to champion athletes who are DeafBlind and encourages them to celebrate their strengths.
Ujlaky-Rejto Ildiko
Hungarian fencer Ujlaky-Rejto Ildiko is known as one of the greatest fencers of all time. She represented Hungary in every Olympics from 1960 to 1976, winning numerous gold, silver and bronze medals – two gold (one each in foil individual and foil team), three silver (three foil team), and two bronze (one each in foil individual and foil team).
Ildiko also won many World Fencing Championships titles, including the 1963 individual foil and team foil World Championships titles in 1962, 1967, and 1973. As recently as 1999, she won the women's foil competition at the World Veterans Championships.
Ildiko was born deaf, and has said very little about her hearing loss.
Usually, hearing the clash of the blades is considered crucial in fencing. But after picking up the sport at age 15, Ildiko worked with coaches who instructed her by giving feedback and direction on paper. She learned to fence in a way that was not 'mainstream', and excelled at it.
Terence Parkin
"Success is 90% attitude and 10% training… With the right attitude, you can do anything."
Terence Parkin is a South African swimmer and multiple Olympic medal-winner. He is known by many as the 'Silent Torpedo'.
Parkin won the silver medal in the 200 meters breaststroke at the 2000 Summer Olympics, and holds the record for winning the greatest number of medals in Deaflympics history. His total is 33 medals, including medals for cycling as well as swimming.
Parkin is the only deaf swimmer to be part of the FINA's (the international federation for water sports) elite rankings. He was also World Deaf Sportsman of the Year in 1997, 2000, 2001 and 2005.
When Parkin competed in his first Olympic games in 2000, he was only 20 years old. He used sign language to communicate with his coach.
"I'm going to the Olympics to represent South Africa," Parkin said. "It's so vitally important for me to go, to show that the deaf can do anything. They can't hear, they can see everything. I would like to show the world that there's opportunities for the deaf."
See Parkin below with his trainee Pierre Dellieu, a young, Deaf bronze-medal winner at the World Deaf Swimming Championships in 2019.
William Ellsworth 'Dummy' Hoy
"It is not enough that the deaf candidate for baseball honors has the necessary ability. He assuredly must have the nerve and the courage to apply for a trial."
William Ellsworth 'Dummy' Hoy was a professional baseball player in the late 19th and early 20th centuries.
He played for several Major League Baseball (MLB) teams from 1888 to 1902, most notably the Cincinnati Reds and two Washington DC franchises. He is often considered the most accomplished deaf player in MLB history.
Hoy's accomplishments are many. He held the MLB record for games in center field (1,726) from 1889 to 1902. He set records for career putouts (3,958) and total chances (4,625) as an outfielder.
When he retired in 1902, Hoy was among the leaders in outfield games, assists, and double plays. He was also an incredible baserunner, scoring over 100 runs nine times, and often finished among the top base stealers.
Hoy became deaf at age three after suffering from meningitis. He communicated with sign language.
In May 1902, Luther Haden 'Dummy' Taylor pitched against Hoy. The occasion was reported to be "the first and only time two deaf professional athletes competed against one another." When Hoy came to bat for the first time, he signed to Taylor, "I'm glad to see you."
In the 1900s when Hoy and Taylor were playing, the word 'dumb' was used to describe someone who could not speak. Dummy Deegan, Dummy Leitner, Dummy Lynch, Dummy Murphy and Dummy Stephenson were other MLB players who went by this moniker. Taylor said, "In the old days, Hoy and I were called Dummy. It didn't hurt us. It made us fight harder."
Hoy is sometimes credited with being one of several players who helped developed the use of hand signals that are used by umpires to this day.
Ashley Fiolek
"I just want them to know if you dream about something, work hard, put the right people around you, anything is possible. But you have to do the work. You can never give up. You just have to keep going."
Ashley Fiolek first got on a motorbike at age three. The training wheels came off when she was seven, and she began her professional career at 17. Today, she is acknowledged as "revolutionizing women's motocross."
One day in school, Fiolek arrived at school with her hair dyed pink. She told her school teacher she did it because she wanted boy racers to know they'd just been beaten by a girl.
Fiolek has won many awards and accolades, including the Women's Motocross (WMX) Championship four times, in 2008, 2009, 2011, and 2012.
In 2009, Fiolek won her first X Games gold medal in Women's Moto X Super X at the extreme sports championships known as X Games 15. This made her the X Games' first deaf medalist, and the youngest ever Women's Motocross Association champion. She was also the first woman to be signed to the American Honda Racing factory team.
Fiolek was born deaf. She went on to attend the acclaimed Florida School for the Deaf and Blind, where Ray Charles was once a student.
Fiolek retired from motocross in 2012. Since that time, she has made multiple television appearances, including being the first Deaf guest to appear on the TV talk show, Conan. In 2014, she joined the Marvel Universe Live show and tours with the show as a motorcycle stunt performer.
David Smith
"[Hearing loss] is part of me, and I've had to make adaptations along the way, but it hasn't stopped me from doing anything I want to do."
David Smith is an accomplished American volleyball player. He is a gold medalist of the 2015 World Cup and competed in both the 2012 and 2016 Olympic Games.
Smith is a middle blocker and is well-known for his powerful 'strike' close to the net. He is a towering 6 feet, 7 inches tall.
Smith joined the US national volleyball team in 2009, and was named the Best Blocker at the World Championship Qualifier the same year. From 2009 to 2012, he played professionally in Puerto Rico, Spain, and France.
Born nearly deaf, Smith wears hearing aids and lipreads during games. His team also has the 'David Smith Rule', which is: If Smith calls for the ball, it's his. This is because it's impossible to watch the ball and lipread at the same time, so the players have an agreement to stay back when Smith makes a call.
Carl Morris
"There are so many disabled people – not just deaf people – who have so many setbacks in life that they don't have any confidence left. And they start withdrawing into themselves, and become a hermit in some cases. I think that's a really sad thing. I want to go out there and say 'I can't hear a damn thing but look what I've gone and done. And if I've done it, so can you.'"
Carl Morris – sometimes known as 'Houdini' – became eight-ball pool world champion in 1998. In 2012, he served as the secretary of the International Professional Pool Players' Association (IPA), with the goal of bringing inclusiveness to the game of pool and greater awareness of the game.
Morris lost his hearing at age three due to meningitis. His parents turned to the National Deaf Children's Society in the UK, and the organization helped Morris and his parents create the environment that allowed him to flourish.
"It's all about focus and concentration, and the less distractions you have the better. So, I think being deaf has helped me improve because, naturally, I don't get those distractions when I play. I can just go on that table and the whole world just switches off," he said.
Today, Morris is an inspirational speaker and performs at pool exhibitions all over the world.
Watch Carl in action at the 1998 World Pool Championships below.
Accessibility note: The commentary in this video is not captioned, however the gameplay itself is silent.
Reed Doughty
"I think hearing aids can be cool," Reed Doughty has said. "I think they're a tool just like glasses."
Reed Doughty is an American football safety who is currently a free agent. He was drafted by the Washington Redskins in the sixth round, with the 173rd overall pick, of the 2006 NFL Draft. He played college football at the University of Northern Colorado.
Doughty inherited his sensorineural hearing loss. His grandmother, father, and aunts all have a range of hearing loss. At age six, Doughty was diagnosed with nerve degeneration in his ears, a progressive condition which worsens over time.
In his rookie year with the Washington Redskins, Doughty recalled, "My coach had his back to me at the whiteboard, explaining some new defenses we were putting in. I was a 4.0 student in college and I was supposed to be a smart guy, but I kept making mistakes on the field."
Doughty said he'd ask his coach, "When did you say that? I didn't hear anyone talk about [the new play]." Doughty's coach told him to get his hearing checked, so Doughty, years after being diagnosed with hearing loss, finally got hearing aids.
"I would encourage kids who are in need of hearing aids to go for it and get them," Doughty said in a Siemens ad. "They enhance your communication, your relationships, you do better in school. And now with these being shock-resistant and waterproof, you can wear them while playing sports."
"There's a stigma with hearing loss," Doughty said. "With glasses, you can wear them as part of your look and be stylish, but people don't feel the same way about hearing aids."
James Kyte
"My dad always said, 'It may be a handicap, but it's not a disability,'" Kyte has said. "You should be able to do anything you want to if you work hard enough at it and have the passion for it."
James G. Kyte was a player in the Canadian National Hockey League (NHL). He made history by being the first and to-date, the only, deaf player. He played 640 regular season and playoff games over 13 seasons with five teams, scoring 66 points and collecting 1,342 penalty minutes.
At age three, Kyte was diagnosed with hereditary hearing loss. He wore a customized helmet with flaps covering his ears to protect his hearing aids during games. Kyte's playing career came to an unfortunate end when he suffered a concussion in an automobile accident in 1997 and was forced into retirement.
In 2018, Kyte and nine members of his family played hockey for the Canadian Deaf Sports Association (CDSA) at the Canadian Deaf Games and brought home the gold medal.
If you want to know more about accessibility services for deaf and hard-of-hearing people – including captioning – you can visit the Ai-Media website for our full range of services.